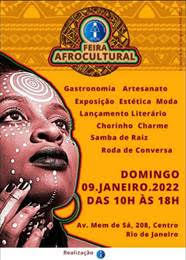 This Sunday (01/09), the 1st edition of the IPCN's Afro-cultural Fair takes place. The event will bring together Afro-Brazilian entrepreneurs in the leisure area formed between Avenida Mem de Sá, 208 and Rua Ubaldino do Amaral, in Lapa, downtown Rio, from 10 am to 6 pm. The event is organized by the Institute for Research of Black Cultures (IPCN), and admission is free.
The public will have at their disposal products from gastronomy, handicrafts, plastic arts, clothing, literature, as well as attractions such as storytelling and musical groups with chorinho and samba circles. For Afro entrepreneurs, an interest-free credit line with 24 months for payment will be presented.
One of the children's activities is storytelling, with the writer Pituka Nirobe, author of the books "Kabula e Ketula"; "Ed Nandyala" and "Pedras Pedrinhas e Pedregulhos," at 10 am, at the opening of the fair. At 14, Ianna Fletcher will release the book "Lindas Nuances," accepted for the Vienna Cultural Festival in Austria and with a presence at the Weltmuseum Wien. At 3 pm, Giselle Santos will launch her "Stop! You are not a fraud." The three authors will do autograph sessions. Throughout the day, the attractions take turns on stage. One of them will be the chorinho group "100% Suburbano". In total, the event will have 40 exhibitors.