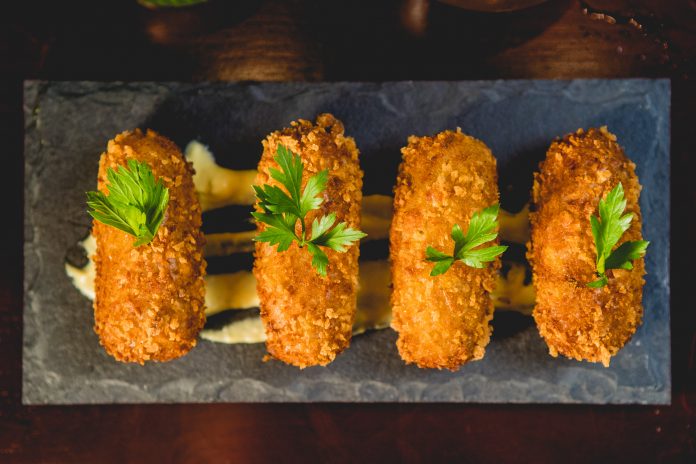 Taking the city of Barcelona as its inspiration, Casa Milà offers an environment that mixes art, innovation, and diversity in a charming and extraordinary space, in the heart of San Salvador Square, in Laranjeiras. Creating a "trip" beyond gastronomy, the restaurant aims to be an art gallery, combining cuisine with artistic interventions, also offering culture to diners.
During an exchange in Spain, Lucas Leal, a partner at the site, had the idea of ??opening a venture with Catalan references. The name even comes from Barcelona's "Casa Milà," known as "La Pedrera" — a classic building designed by Catalan architect Antoni Gaudí. And to command the kitchen, Leal invited the renowned chef from Minas Gerais, Fernando Almeida.
And for the menu, Fernando bet on creative options for dishes, salads, appetizers, and burgers. To start, be sure to try the traditional croquetas de Jamón (R$ 32 – 4 units); Patatas Bravas (R$ 28), aioli potatoes with spicy paprika; Gambas al ajillo (R$ 62), shrimp in garlic and oil, with Sicilian lemon and breadbasket; and Porca Miséria (R$ 48), five pork cuts, wrapped in cheese and breaded in a particular house flour.
Those who want to go easy can choose between the Quinoa Mediterrânea (R$ 44), mixed quinoa, green leaf mix, cranberry, grilled carrot, zucchini, and cherry tomatoes salads; Cimini (R$54), VM shrimp with a blend of green leaves, grilled fennel, artichoke, and tomato confit; Milà (R$ 48), boyfriend chips with aromatic herbs, a mix of green leaves, grilled grapes, grapefruit segment, roasted tomatoes, and olive oil.
Among the main suggestions, a highlight is the Paella for two (R$ 230), with senia rice, octopus, squid, and shrimp sautéed in La Masia olive oil with mussels, smoked seafood, peppers, and Spanish saffron; Spanish Octopus (R$ 85), octopus tentacles sautéed in La Masia olive oil and garlic, accompanied by Catalan rice. Brasileiríssimo (R$ 68), baked whiting accompanied by mashed plantains, with açaí farofa and black-eyed bean vinaigrette; Tornedor São Salvador (R$85), mignon shaper, wrapped in a Parmesan crust with aromatic herbs, in a Dutch mustard sauce, accompanied by Jamón risotto and cheese; and Barley à Moda (R$ 48), barley with shitake, shimeji and Paris mushrooms, leeks, tomato confit, and arugula.
Hamburger fans have a turn too. The house offers three options: Hamburguesa de Carne (R$ 56), flank steak blend, beef breast, pork belly, and bacon, with salad and special sauce, on crackled bread, accompanied by fries; Hamburguesa de Costilla (R$ 56), pork rib blend with Minas sausage and bacon, with cheese, lettuce, onion pickles, and special house sauce, on cracked bread, accompanied by cassava chips and even vegetarian, with Hamburguesa Vegetarian (R$50), a veggie blend of red quinoa, carrots, and zucchini, with almond pesto, roasted tomatoes, and arugula, on cracked bread, accompanied by fries.
To finish, Crema Catalana (R$ 24), delicious Catalan cream with cinnamon sticks and lemon rind, with a bit of caramelized sugar crust; Churros with chocolate ganache (R$ 26); and Thousand leaves filled with brigadeiro de paçoca, creamy dulce de leche and flambé strawberry.
The drinks list is diversified, with the best wine and beer labels being available and authorial and creative drinks.
Service
Casa Milà
Address: Rua Esteves Júnior, 28, Laranjeiras
Opening hours: Tuesday to Sunday, from 12 pm.
Phone / WhatsApp: (21) 99574-5830
Capacity: 70 seats