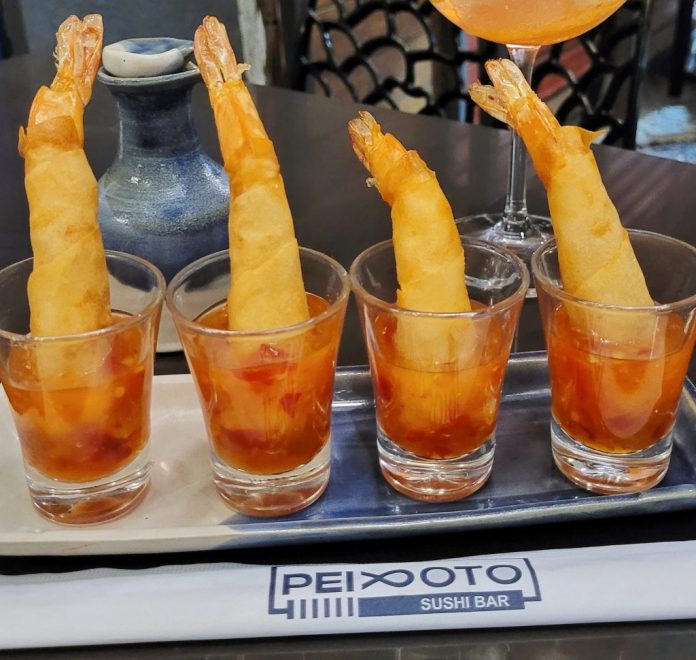 One of Peixoto Sushi's significant differentials is the very fresh fish, all from the family's fish shop, which is chosen one by one on the fishing boats daily by the owner, who has been passionate about the practice since childhood.
At entrées, shrimp straws, four large prawns wrapped in a thin, crunchy dough, served with homemade pepper jelly (R$45.90) ??and salmon sushi ball, six crunchy balls stuffed with salmon, cream cheese, and rice, lightly dampened with teraki (R$22.90).
A good choice, the Special Peixoto, is eight rolls prepared by the chef, with the best of the day (R$59.90).
A hot option is the biffun with a grill: salmon, white fish, shrimp, seafood, or mushrooms (from R$49.90).
The great lychee pudding (R$15.90) ??and Nutella harumaki with strawberry (R$19.90) as dessert.
SERVICE:
Address: Rua Conde de Bernadotte, 26 – Leblon – Rio de Janeiro – RJ
Opening hours: Tuesday to Friday, 6 pm to 11pm; Saturday, from 12:00 to 23:00; Sunday from 12:00 to 21:00
WhatsApp: (21) 99839-3895