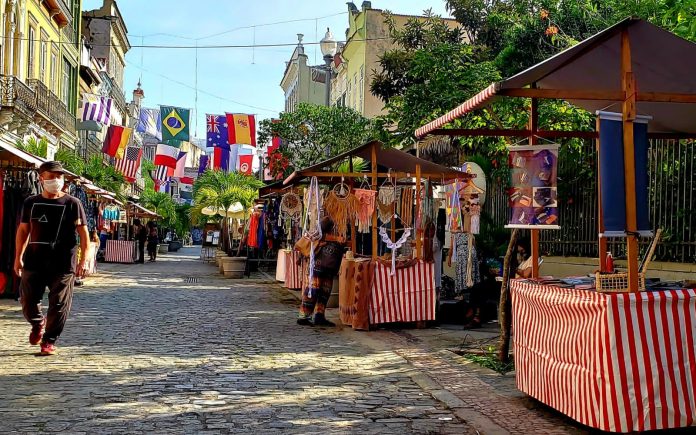 The traditional Feira Rio Antigo (Lavradio Fair), held every Saturday at Rua do Lavradio, is back this weekend, January 15th. The program, canceled last week due to the increase in cases of covid, guarantees a complete tour: music, shopping – with hundreds of stalls that offer various products, from furniture to clothes and accessories to decoration objects – and good gastronomy, in addition to the architectural beauties of the centenary street.
The 1st Season of 2022 of Jazz at the Fair, which has guaranteed an extra charm to the traditional antiques fair, always at 4 pm, premieres this Saturday (15) with Massatrio, formed by Renato Massa, on drums, Marcos Nimrichter, on piano and organ, and Jefferson Lescowich on bass.
On the 22nd, Facundo Estefanell & Banda will debut on the Jazz at Feira stage. The Uruguayan Facundo Estefanell, a researcher of tango, candombe, and classical music, performs, on acoustic and electric bass, along with Cacá Guifer, on sax and flute, Douglas Bastos, on guitar, Tomas Leny, on piano, and Mario Lencina, on the battery.
And ending the 1st season, on January 29th, the incredible instrumentalist Guta Menezes will perform alongside Bruce Lemos on keyboards, and Bruno Repsold, on bass. Guta was a member of the women's band, for 15 years, of the program Altas Horas, on Rede Globo, in addition to having participated in several albums such as Vittor Santos, Y. Popoff, Martinho da Vila, Durval Ferreira, Martinho da Vila, Roberto Menescal, Miele and Rio Jazz Orchestra. João Donato, Victor Biglione, Seu Jorge, and Orchestra of conductor Paulo Moura are some of the artists who had the instrumentalist's participation in their shows. The musician has authorial recordings with the instrumental group Pindorama (Pindorama and Belas Artes and other stories) and participated in the group Ipanema Labs. She recorded CDs and DVDs of Nelson Motta's 70 years. She made the Musical Elza and is currently part of the Maricá das Artes project, where she teaches.
Feira Rio Antigo runs from 10 am to 7 pm, with stalls offering various products, from furniture to clothes and accessories to decorative objects. And the atmosphere is even more relaxed with the exhibition of shopkeepers, antique dealers, exhibitors, and local bars and restaurants – where the public can enjoy a caipirinha, snack, or lunch –, which place tables and chairs outdoors.
Service:
Rio Antigo Fair
Rua do Lavradio
Every Saturday from 10 am to 7 pm
Phone: 98207-0222
JAZZ PROJECT SCHEDULE AT THE FAIR
1st Season 2022:
Saturday, January 15 – 4pm
Show: Massage. With Renato Massa on drums, Marcos Nimrichter on piano and organ, and Jefferson Lescowich on bass.
Saturday, January 22 – 4pm
Show: Facundo Estefanell & Banda
Saturday, January 29 – 4pm
Show: Guta Menezes Trio