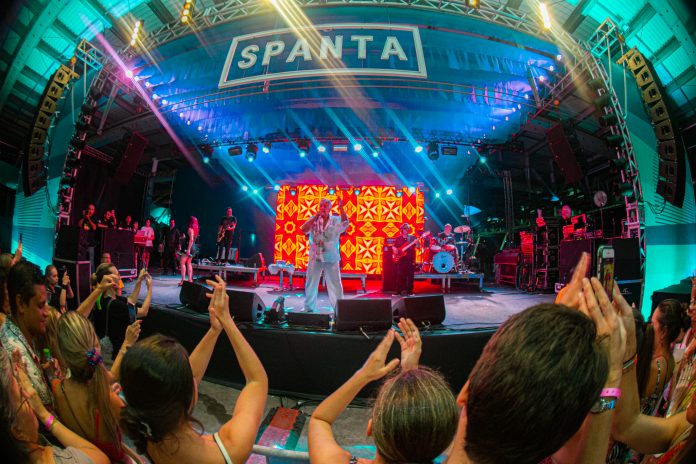 Next Thursday, January 6th, the Universo Spanta begins in Rio de Janeiro, opening the Rio summer of 2022 and the schedule of significant festivals; this year, there will be 11, including Rock in Rio. The event will have more than 100 attractions and around 200 hours of music to stir the public at Marina da Glória throughout every weekend in January. The festival's opening begins with a night in honor of health professionals who were instrumental in fighting Covid. There will be 15 thousand professionals and companions, who will have free entry, and will be able to enjoy, among other attractions, Lulu Santos, Luisa Sonza, and the Velha Guarda da Portela.
The first weekend starts Friday, the 7th, with pop music by Duda Beat, the Minas Gerais artist Marina Sena, 'new revelation of the year' at the Multishow award, the Gilsons, a group formed by the children and grandchildren of Gilberto Gil, Chico Chico, and a lot most. On Saturday 8th, the samba dancers Ferrugem and Zeca Pagodinho, the queen of Axé Ivete Sangalo, the duo Maiara and Maraisa, and Ney Matogrosso are among the attractions. Furthermore, on Sunday, there are Paulinho da Viola and children, Melim with the special participation of Ana Gabriela and Mundo Bita, and recreational activities for the kids and their pets.
There will be three stages, Corcovado, Guanabara, and Lapa, set up in an area of ??more than 60 thousand square meters, principally outdoors. The public will also find lounges available to relax in the space, as well as a food court. There are areas reserved for people with disabilities.
With diverse musical curatorship and an entirely Brazilian program that mixes forró and rock, sertanejo and rap, MPB and samba in the same night, the Universe Spanta wants to provide musical experiences. "Santa has, throughout its history, the proposal of being much more than entertainment. We want to provide the audience with a diverse musical experience. Rhythm mixing allows the audience to experience sounds they would not normally think of seeing. Moreover, the most interesting thing is that they discover that they like and know the songs", says Max Vianna, artistic director of the event.
Guacira Bello, the festival's artistic coordinator, guarantees that news from the music scene will be there. "The festival has had the mark of giving space for new artists to show their work, and it is also a super opportunity for the public to meet names that are already successful and have a loyal following on digital platforms."
Service:
Universo Spanta – 6, 7, 8, 9, 14, 15, 16, 19, 21, 22, 23, 28, 29 and 30 January
Location: Marina da Glória – Av. Infante Dom Henrique, S/N, Glória, Rio de Janeiro
Event organizers regularly contact health authorities to ensure that the festival respects all current regulations.
The presentation of the vaccine passport with an identification document will be required.
January 8th – Saturday
opening of the gates: 4 pm
Palco Corcovado – Vitão / Ney Matogrosso / Lourena Part. Azzy/ Eu Amo Baile Funk
Palco Guanabara – Ferrugem/ Zeca Pagodinho/ Ivete Sangalo/ Maiara E Maraisa
Palco Lapa – Galocantô / Lucy Alves/ Orquestra Voadora/ São Clemente/ Roda Do Spanta
January 9th – Sunday
opening of the gates: 2 pm
Paulinho da Viola part. Bia and João Rabello Mundo Bita/ Sofia Cruz/ Melim part. Ana Gabriela and OutrosEu / Workshops / Pet Programming
January 14th – Friday
opening of the gates: 19h
Palco Corcovado – Coruja Bc1 / Francisco, El Hombre/ Vem Cá, Minha Flor
Palco Guanabara – Elza Soares + Renegado/ Planet Hemp/ Baianasystem
Palco Lapa – Feijão/ Rapha Lima/ Tamy/ Rdd/ Saddam/ Bahruth
January 15th – Saturday
Palco Corcovado – Luedji Luna/ Gal Costa/ L7nnon/ Papatinho
Palco Guanabara – Os Paralamas Do Sucesso/ Menos É Mais/ Pedro Sampaio/ Zé Neto E Cristiano
Palco Lapa – Samba Do Trabalhador/ Jongo Da Serrinha/ Fogo E Paixão/ Mangueira/ Roda Do Spanta
January 16th – Sunday
opening of the gates: 2 pm
Baile do Almeidinha with Hamilton de Holanda part. João Bosco and Elba Ramalho/Workshops/Pet Programming/ Rockin' Kidz part. Digão / BENJAMÍN/ Luan Otten part. Elana Dara, Luccas Carlos and Mariana Nolasco
January 19th – Thursday
opening of the gates: 20h
Baile da Favorita/ Mc Marcinho/ Mc Leozinho/MC Kekel/ Poze do Rodo/ Teto Orochi/ MD Chefe & Domlaike/ Valesca Popozuda/ Livinho/ MC Du Black/ Gabily/ Bonde do Tigrão/ BIN/ Felipe Mar/ Andinho/ Wally/ DJ Tubarão/ Matheuzinho/ Roda de Som e convidados
January 21st – Friday
Palco Corcovado – Tássia Reis/ Black Alien/ Bk'
Palco Guanabara – Djonga / Mano Brown/ Matuê
Palco Lapa – Tamenpi/ Bruno X/ Luísa Viscardi/ Nepal/Heavy Baile/ Cix
January 22nd – Saturday
opening of the gates: 4 pm
Palco Corcovado – Delacruz/ Mumuzinho/ Gloria Groove / Fp Do Trem Bala
Palco Guanabara – Roupa Nova/ Ludmilla/ Alok/ Jorge E Mateus
Palco Lapa – Grupo Arruda / Dendê/ Céu Na Terra/ Beija-Flor/ Roda Do Spanta
January 23rd – Sunday
opening of the gates: 2 pm
Depart part. Samuel Rosa / Flor Gil part. Gilberto Gil / Maré do Amanhã Orchestra part. Thiago Martins and Ana Vilela/ Gui Schwab/ Workshops/ Pet Programming
January 28th – Friday
Palco Corcovado – Bloconcé / New Kids On The Bloco/ V De Viadão
Palco Guanabara – Majur / Pocah/ Pabllo Vittar
Palco Lapa – Ubunto / Yasmin Vilhena/ Sereias Da Guanabara/ Batekoo
January 29th – Saturday
opening of the gates: 4 pm
Palco Corcovado – Nem Do Samba E Banda Família Tia Doca/ Vou Zuar/ Agytoê/ Salgueiro / Roda Do Spanta
Palco Guanabara – Claudia Leitte / Dilsinho/ Iza
Palco Lapa – Dona Ivone Lara 100 Anos / Céu/ Alcione/ Dj Marlboro
January 30th – Sunday
opening of the gates: 2 pm
Zizi e Luiza Possi/ Palavra Cantada + Coral / Lua / Dj Rivkah part. Zeeba e Roberta Campos Oficinas/ Programação Petaviso si